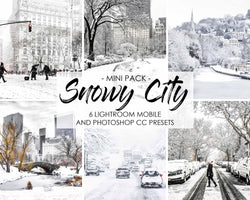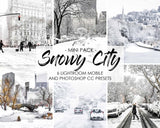 Snowy City - Snow Presets, Winter Filters, City Presets, Christmas Presets
It's time to unpack your flannels and cozy up to that crackling fire. Winter has arrived. Discover SNOWY CITY Lightroom Presets. Snow can be tough to photograph because it often comes out grey, blue or beige depending on your camera. Our presets correct this and transforms the fault into ice-kissed photos. Editing your photos has never been easier!
ABOUT THIS PACK:
• 6 Lightroom Presets For Lightroom and Photoshop CC
• 6 Lightroom Presets For Lightroom Mobile (iPhone and Android)
You can contact us anytime if you have trouble installing the presets or you can check out our 
INSTALL INSTRUCTIONS


WHY CHOOSE OUR TRENDY PRESETS?
•
 Our Mobile Presets are perfect for Adobe Lightroom CC Mobile App and works wonderful with iPhone and Android devices.
• Lightroom Mobile is FREE so you don't need an Adobe subscription to use the presets
• 
If you have an Adobe CC Subscription available, the presets can be synced and will be compatible with iPhone and Android mobile phones and also on iPad, so you can edit photos on the go
• The presets are really easy to use, just one click and you can post your photos on any social media you like
•
Desktop Presets which can be used with Photoshop CC and Lightroom CC have the extension .XMP
• Mobile Presets that can be used with Lightroom Mobile have the .DNG extension
•
 Compatible with Mac, PC, iPhone and Android
•
Presets designed for JPEG & RAW
•
Secure Checkout & Instant Download