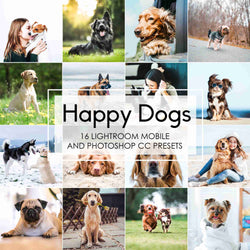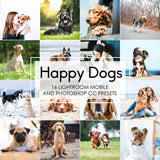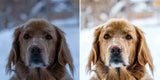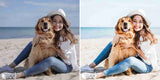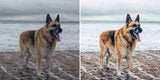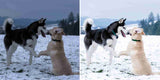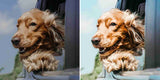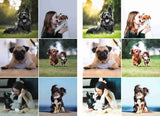 Happy Dogs - Dogs Presets, Animal Presets, Blogger Presets, Instagram Presets
Discover the Happy Dogs Lightroom Presets Collection designed to bring out the finer details such as fur, eyes and other characteristics of your beloved pets. Just one click and you are ready to go posting your cute dog friend photos on Instagram or Facebook.
ABOUT THIS PACK:
• 16 Lightroom Presets For Lightroom and Photoshop CC
• 16 Lightroom Presets For Lightroom Mobile (iPhone and Android)
You can contact us anytime if you have trouble installing the presets or you can check out our 
INSTALL INSTRUCTIONS


WHY CHOOSE OUR TRENDY PRESETS?
•
 Our Mobile Presets are perfect for Adobe Lightroom CC Mobile App and works wonderful with iPhone and Android devices.
• Lightroom Mobile is FREE so you don't need an Adobe subscription to use the presets
• 
If you have an Adobe CC Subscription available, the presets can be synced and will be compatible with iPhone and Android mobile phones and also on iPad, so you can edit photos on the go
• The presets are really easy to use, just one click and you can post your photos on any social media you like
•
Desktop Presets which can be used with Photoshop CC and Lightroom CC have the extension .XMP
• Mobile Presets that can be used with Lightroom Mobile have the .DNG extension
•
 Compatible with Mac, PC, iPhone and Android
•
Presets designed for JPEG & RAW
•
Secure Checkout & Instant Download
Customer Reviews
Excellent!
Excellent customer service and beautiful presets. I messaged the seller for a recommendation for preset bundle for my puppy. Within minutes, he responded offering a suggestion and a preview. After sending him a picture of my pup, he sent me a preview of all the presets from the dog lover bundle. 10/10 would recommend.
Love them
Love these presets! They were perfect for enhancing our puppy's photos!
Perfect
Perfect for pet photography, but they also look great on landscape photos!
Amazing
These presets are amazing and the customer service is fantastic. I had some trouble downloading these presets and sent a message explaining what was going on to the seller. He quickly sent me the presets to my email in a way I could download them easily. My dog has a pretty dark face and I have trouble seeing it in photos, these presets are perfect!