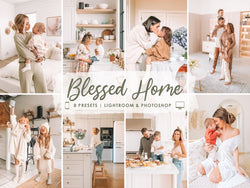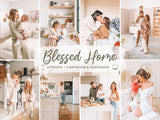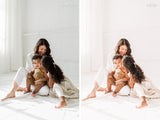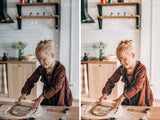 Mobile Lightroom Presets, Family Mom Blogger Presets, Bright White Home Presets, Interior Presets
Shop our Bestselling pack of Lightroom Presets, Mobile Presets and Desktop Presets. BLESSED HOME Lightroom Presets Pack is available for Lightroom Mobile, Lightroom Desktop and Photoshop Camera Raw. Inspired by the love of family, kids laughter, small moments of happiness and fun, our presets will give your images a bright look and happiness vibes. Capture family moments and apply the perfect preset.
These presets are the ideal aesthetic for indoor photography, bloggers & influencers, family photoshoot, baby portraits, candid moments, outdoor, travel, winter shots and many more. They will improve light and contrast in your photographs and is a great choice for almost any kind of photography. Just one click and you are ready to go posting your favorite photos.
⭐ Perfect for photos of lifestyle, fashion, travel, selfies, blogger, street photography, home decor, kids, family, style, flat lay, pets, animals, dogs, cats, and everyday photos.
Art My House Presets work with Lightroom Mobile & Lightroom Desktop and with Photoshop ACR.
ABOUT THIS PACK:
• 8 Presets For Lightroom CC Classic (starting version 7.3) and Photoshop CC - XMP files. We DO NOT support older LRTEMPLATE files
• 8 Presets For Lightroom Mobile - iPhone and Android - DNG files
• PDF Install Instructions